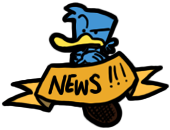 It's DONE! It's finally done!
Here's something EPIC I've been working this past year or so.
It's 1000 FACES from several various genres and types of fiction (including real life persons/celebrities colored differently).
All I can say is that this was so much fun, even if it took me so long (I kinda lost motivation after losing my job back in January)
Well, I can list all the characters here, but I featured comic book characters from Batman to Booster Gold, videogame characters such as Pac-Man, Rayman or even Donkey Kong, cartoon charas from Motorcity to Gravity Falls, manga characters from Dragon Ball to Berserk, anime characters such as Cutie Honey and more, Franco-belgium classics from Lucky Luke to Gaston, real life people such as Einstein or Bruce Willis… and hundreds more!

Literally!
Try to guess some of them?
'Hope you like it, Enjoy!